Silver Haven riding school program consists of specialized training tailored specifically to the rider's abilites and skills. Each rider will be evaluated on their assessment day, based on the goals defined by the rider. A program will be designed allowing the rider to learn and excel towards meeting their goals. Depending on the program path chosen, instruction will be provided on either student's own horses (or) leased horses.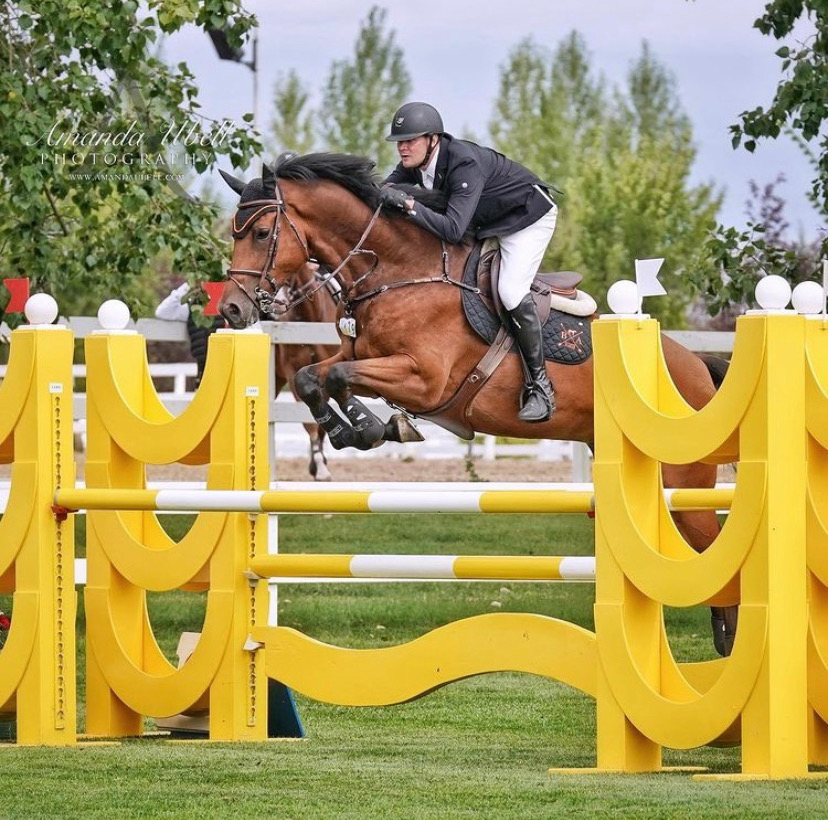 Our Mission
"Our mission is to fill the gaps that we see in the equestrian world. We want everyone to have a chance to be successful in their equestrian journey while caring for the equine partner that makes it all possible."
School Horse Program
Our horses are suitable for the beginner rider to the novice/intermediate skill level.  Our primary focus of discipline is Hunter/Jumper. We teach correct riding along with a classical approach to understanding the horse and riding in harmony with an equine partner. Horses are specifically fitted with tack and are available for the student to use for their lessons. More experienced riders might also ride these horses, but they also might branch out into some of our former competition horses.
Learn more about the difference between the Hunter / Jumpers.
Each Lesson
Approximately a 2+ hour session which is as follows:
30/45 minutes for you (and/or your child) to do basic grooming and tack up the horse
1 hour of group learning (scheduled lesson time).

30/45 minutes to untack, basic grooming, tack care, light barn chores (sweeping, hosing, and compost removal).

Group lessons are available for riders who can trot and canter independently. Early jump/pole work can be included in a

normal lesson.

All group lessons are monthly, meaning they are continuous 12 months of the year.

All students pay for the selected number of lessons per Month – If there is an additional day of lesson in the month the

* additional class will be a mandatory horsemanship class.
Beginner/Novice School Horse Program
As riders improve their abilities and experience success, they start moving into beginner/novice levels.  Students are on an individual equine plan according to their goals. Students will be moved according to skill level to make sure that everyone is learning at their own pace.
Discipline: Hunters
Group lessons               60 MIN             (1/week)           Beginner-Novice
Intermediate/Advanced School Horse Program
Intermediate/advanced program is the next stepping stone to the advanced program. Riders continue to improve their abilities and experience success at a higher level of learning as they move into the advanced program.  Students are on an individual equine plan according to their goals. Students will have the option of using their horses or moving into a ½ leasing or full lease.  The horses leased are not school horses.
Discipline: Hunters/Jumpers
Group lessons               60 MIN             (2/week)           Intermediate
Group lessons               60 MIN             (3/week)           Advanced
Semi-private lessons    (45 min)
Private lessons              (30 min)           
Advanced Coaching
Silver Haven EQ provides advanced coaching which allows for specialized training for hunter/jumper riders. Instruction is available on students' own horses (or) leasing horses. When training for a competition our coaches will tailor an individual learning plan to help athletes and their equine partners achieve their personal goals.
As part of our advanced coaching program, we offer our clients who are buying (or) leasing horses a Horsemanship course on everything they will need; tack and fitting, medical supplies, minor remedies, blanketing/standing wraps, basic exercise program, skills on how to properly lunge.
We provide Information on show regulations, how to fill out show applications, and what athletes will need to bring and expect at shows (including trailering requirements). * Parents are welcome to attend an info session.
Each athlete will have individual/group sessions for goal setting, personal conduct, anxiety management including other mental skill training with a professional who specializes in sports performance coaching.
Silver Haven EQ riders and coaches/staff attend numerous competitions per year. There will be coaching at all shows whether they are local, provincial, or anywhere in North America. * Conditions apply.
Examples of show destinations are Paramount, Teesdale, Rocky Mountain Show Jumping, Royal West, Spruce Meadows in Calgary, Thunderbird Show Park in Langley BC, and International Desert Horse Show in Thermal California.
Silver Haven EQ offers equine-inspired horsemanship sessions/clinics that focus on learning the basics about horses as well more advanced communication and enhanced partnership building. Connecting with horses on the ground is fundamental to establishing a good partnership and relationship with horses, whether you plan to ride and compete with your equine partner or just want to do pleasure/therapeutic sessions. Time is also spent on observing herd dynamics and how they interact with the herd. Horses are extremely social and curious animals who have a strong need for security. Sessions are equine inspired as they are the best teachers of how they want to be interacted with.
Group Horsemanship Session                (60 min)
Individual Horsemanship Session           (60 min)          
Sessions/clinics are relaxed, fun, and interactive. They flow organically, using teachable moments as they present. This is a unique opportunity for those who want to understand horses and increase the level of engagement. There is NO riding in these sessions.

* No prior horse experience is necessary.
* Sessions are available once a week.
Topics Covered
Safety around horses

Basic groundwork and connection building exercises

Cost and care of owning horses

Identifying common illnesses and injuries

Colic identification and prevention

Grooming and hygiene

Diet and nutrition

Basic hoof care and health

Basic equine first aid

Trailering: Safety, training, and problem-solving techniques

Administering medications and vaccinations

Horse behavior

A

nd so much more!
Contact Us if you wish to learn to ride after your horsemanship sessions.
Hunter/Jumper
The Hunter/Jumper sport is made up of two disciplines:
Hunter and Jumper, also known as Show Jumping
Hunters
The origin of the show ring hunter can be found in the sport of fox-hunting where horse and rider galloped over miles of countryside with varying terrain negotiating natural obstacles (fences, hedges, stone walls) encountered along the way while in the pursuit of the game. Modern hunter classes were designed to test the qualities and attributes of a successful hunt horse. These classes are subjectively judged based on the horse's performance over fences as well as its quality of movement under saddle on the flat. Show hunters should possess good style over the jumps, consistent pace throughout the course, as well as quiet manners. Hunter rounds should appear smooth and effortless to the spectator with the horse and rider working together to make the course flow from one jump to the next. Hunter courses typically consist of eight to 10 jumps that are more organic in form and generally lower in height than fences used in jumper classes
Jumpers
Jumper classes are scored objectively based solely on the horse's athletic ability over fences as measured by time. A jumper's only job is to clear all the fences in the course as quickly as possible without incurring any faults. A horse incurs faults for each mistake made: four faults for each rail knocked down, four faults for every refusal, and 1 fault for every second over the maximum time allowed to negotiate the course. The horse with the least number of faults and the fastest time wins. Jumper courses, which are technical in nature and typically consist of 12-16 jumps, require strategic riding in addition to a swift pace.
Practical Horseman Article
An article for your to read if you would like a different perspective.